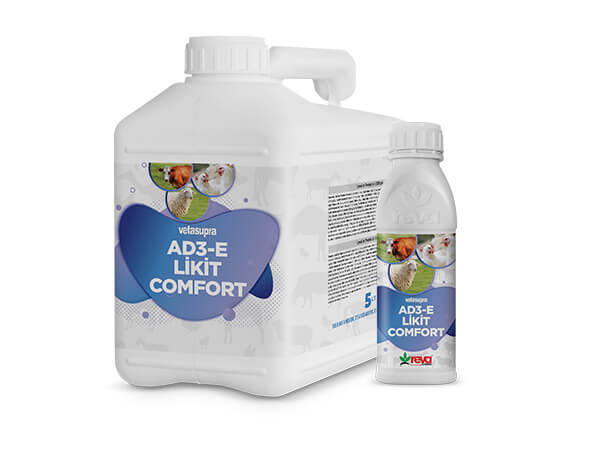 Vitamins: 3a672a-Vitamin A (Retinol Acetate) 3a671-Vitamin D3 (Cholecalciferol) 3a700 Vitamin E (Alpha Tocopherol Acetate)
Carriers: Water (Water)
PURPOSE OF USE: It is a liquid premix specially produced to meet the A-D-E vitamin needs of bovine, ovine, and poultry. It is used in cases of transport stress, vaccination stress and to strengthen the immune system.It is given as a nutritional supplement in order to increase the quality of the fattening carcass, milk yield, and egg quality and productivity.
USAGE: For calves 25-30 gr.; for elder calves 35-50 gr.; for cattle; 10-20 gr.; For Lambs-kids; 10-20 gr.; For Sheep-Goats 35-50 gr. or 500-1000 gr. per 1 ton of water; For poultry, Add 1 kg/1 ton of water.
STORAGE: To be stored in cool, dry and dark and moisture-free places.