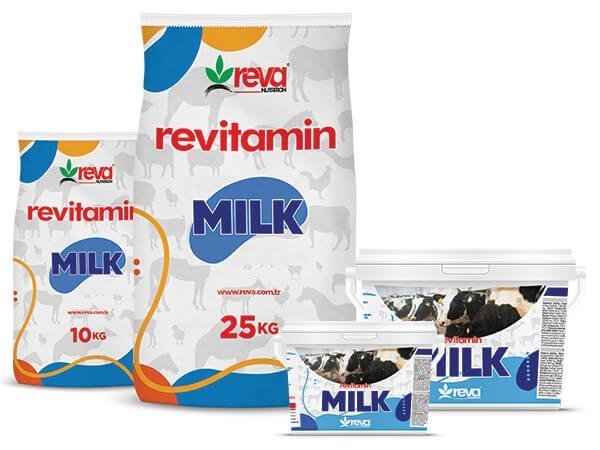 Vitamins: 3a672a – Vitamin A (Retinyl Acetate) 3a671 – Vitamin D3 (Cholecalsiferol) 3a700 – Vitamin E (Alpha Tocopheryl Acetate) 3a315 – Vitamin B3 (Nicotinamide (Niacin))
Trace Elements: E1 – Iron (Iron Oxide) 3b202 – Iodine (Calcium Iodine) 3b305 – Cobalt (Cobalt Sulfate) 3b405 – Copper (Copper Sulfate) 3b503 – Manganese (Manganese Sulfate) 3b603 – Zinc (Zinc Oxide) 3b801 – Selenium (Sodium Selenite)
Minerals: 11.4.1 – Sodium (Sodium Chloride) 11.2.1 – Magnesium (Magnesium Oxide) 11.3.1 – Phosphorus (Dicalcium Phosphate)
Antioxidants: E320 – BHA (Butylated Hydroxyanisole)
Carriers: 11.4.2 – Sodium Bicarbonate (Sodium Bicarbonate) 11.1.1 – Calcium Carbonate (Calcium Carbonate)
USAGE PURPOSE: It is a mixture prepared economically in order to meet the vitamin and mineral needs of bovine and ovine milking animals. It opens the appetite and has an efficiency enhancing properties. It increases the feed utilization rate and increases the quality and quantity of milk in dairy animals.
USAGE: 10 kg for 1 ton of feed, 0.5 kg for 1 bag of feed; In addition, it can be used by mixing 100 g to the daily feed of animals in 1 cattle, 4 calves, 5 sheep, 10 lambs.
STORAGE: To be stored in cool, dry and dark and moisture-free places.