Vetasupra Vit-Aminos Likit
Vetasupra Vit-Aminos Likit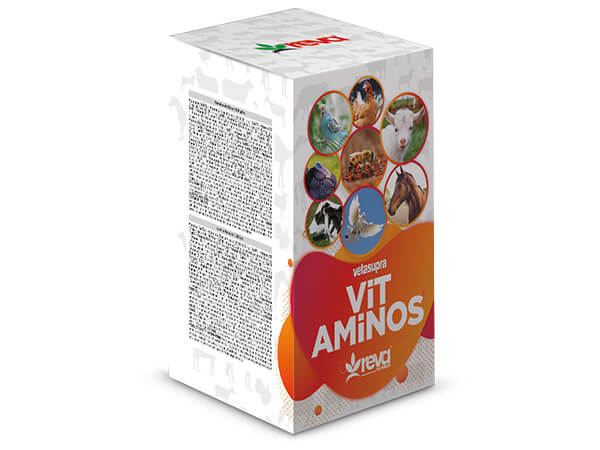 Vitamins: 3a672a – Vitamin A (Retinol Acetate) 3a671 – Vitamin D3 (Cholecalciferol) 3a700 – Vitamin E (Alpha Tocopherol Acetate) 3a821 – Vitamin B1 (Thiamine) Vitamin B2 (Riboflavin) 3a315 – Vitamin B3 (Nicotinamide(Niacin)) 3a841 – Vitamin B5 (Calcium-D-Pantothenate) 3a831 – Vitamin B6 (Pyridoxine) Vitamin B12 (Cyanocobalimin) 3a710 – Vitamin K3 (Synthetic Menadione) 3a300 – Vitamin C (Ascorbic acid) 3a880 – Vitamin H (Biotin) 3a890 – Choline (Choline Chloride)
Amino Acids: 3c301 – Methionine (DL-Methionine) 3.2.1 – Lysine (L-Lysine) 3.3.1 – Threonine (L-Threonine) 3c3.6.1 – Arginine (L-Arginine) 3c391 – Cystine (L-Cystine) Glutamic acid (L-Glutamic Acid) Aspartic Acid (L-Aspartic Acid) Alanine (L-Alanine) Glycine (L-Glycine) 3.4.1 – Triptaphone (L-Tryptophone) 3c3.5.1 – Histidine (L-Histidine) Proline (L-Proline) Cool (L-Cool) Phenylalanine (L-Phenylalanine) 3c3.7.1 – Governor (L-Valine) 3c3.8.1 – isoleucine (L-Isoleucine) Tyrosine (L-Tyrosine) Leucine (L-Leucine)
Carriers: Water (Water)
USAGE PURPOSE: To meet the vitamin and amino acid needs of bees, layer and broiler chickens, pullets and chicks, turkeys, ornamental birds such as pigeons, parrots, parakeets, canaries, lambs, calves, kids, foals and horses, camels, calves, heifers and dairy cows. It is used for the purpose of making the feathers brighter Contributes to healthy growth and development in animals Strengthens the immune system It is beneficial to be used during mating periods.
USAGE: 2 gr per 1 kg cake of bees, 1-2 gr per 100 ml drinking water of ornamental birds, parrots and pigeons, 4-5 gr per 100 ml drinking water of chicken-turkey, 2-4 gr for lambs and kids, 4-6 gr for calves and foals cattle, horse, camel 25-50 gr, it is used by mixing with drinking water. 1 Pump: 1 gr.
STORAGE: To be stored in cool, dry and dark and moisture-free places.