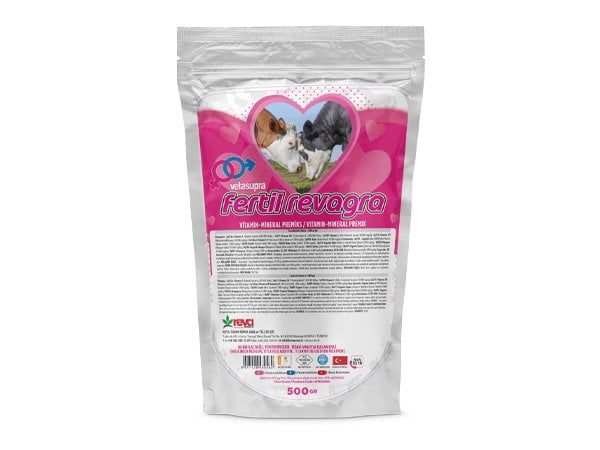 Vitamins: 3a672a – Vitamin A (Retinol Acetate) 3a671 – Vitamin D3 (Cholecalciferol) 3a700 – Vitamin E (Alpha Tocopherol Acetate) 3a315 – Vitamin B3 (Nicotinamide(Niacin)) 3a160(a) – Vitamin A (Provitamin A) (Beta Carotene) 3a890 – Choline (Chloride)
Trace Elements: Organic Iodine (EDDI(Ethylene Diamine Dihydro Iodide)) 3b305 – Cobalt (Cobalt Sulphate) 3b405 – Copper (Copper Sulphate) 3b413 – Organic Copper (Copper's Hydrated Glycine Chelate) 3b503 – Manganese (Manganese Sulphate) 3b506 – Organic Manganese (Mangan's Hydrated Glycine Chelate) 3b603 – Zinc (Zinc Oxide) 3b607 – Organic Zinc (Hydrated Glycine Chelate of Zinc) 3b801 – Selenium (Sodium Selenite)
Amino Acids: 3c 301-Methionine (DL-Methionine)
Antiosidants: E320-BHA (Butylated Hydroxyanisole)
Carriers: 2b-Aromatic Compounds (Aromatic Compounds qsp
USAGE PURPOSE: It is used to meet the need for vitamins, organic trace minerals, amino acids and aromatic compounds for malnutrition in cattle, high milk yield, vitamin E and selenium deficiency, vitamin A, D3 vitamins and insemination problems due to Beta Carotene deficiency. helps bring it.
USAGE: It is used by adding 1 kg to 1 ton of feed and 20-50 g per cattle daily. In cases where the product does not contribute enough, the usage method is applied 1 more time after 1 week.
STORAGE: To be stored in cool, dry and dark and moisture-free places.