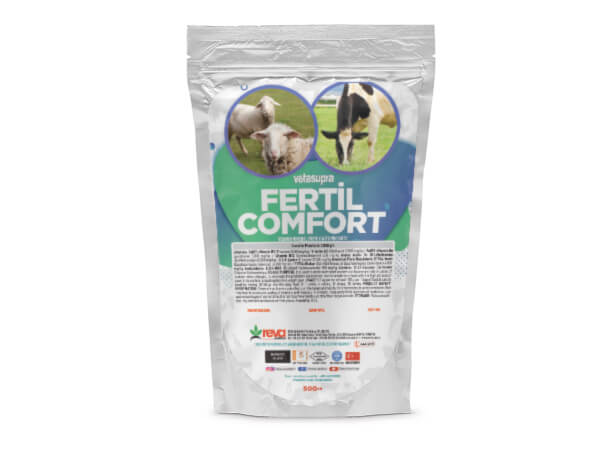 Vitamins: 3a672a – Vitamin A (Retinol Acetate) 3a671 – Vitamin D3 (Cholecalciferol) 3a700 – Vitamin E (Alpha Tocopherol Acetate) 3a821 – Vitamin B1 (Thiamine) Vitamin B2 (Riboflavin) 3a315 – Vitamin B3 (Nicotinamide(Niacin)) 3a831 – Vitamin B6 (Pyridoxine) Vitamin B12 (Cyanocobalimin) 3a300 – Vitamin C (Ascorbic acid) 3a890 – Choline (Choline Chloride) 3a160(a) – Vitamin A (Provitamin A) (Beta Carotene)
Elements: E1 – Iron (Iron Oxide) Organic Iodine (EDDI(Ethylene Diamine Dihydro Iodide)) 3b305 – Cobalt (Cobalt Sulphate) 3b405 – Copper (Copper Sulphate) 3b503 – Manganese (Manganese Sulphate) 3b603 – Zinc (Zinc Oxide) 3b801 – Selenium (Sodium Selenite) 
Minerals: 11.2.1 – Magnesium (Magnesium Oxide) 11.3.1 – Phosphorus (Dicalcium Phosphate)
Amino Acids: 3c 301 – Methionine (DL-Methionine) Lysine (L-Lysine)
Binders: 1g568 – Toxin Binder (Clinoptilolite)
Intestinal Flora Regulators: E1704 – Mannan (Saccharomyces Cerevisiae'nin Hücre Duvarı Exstratı) E1704-Glukan (Saccharomyces Cerevisiae'nin Hücre Duvarı Exstratı)
Antioxidants: E320-BHA (Butylated Hydroxyanisole)
Carriers: 11.1.1 – Calcium Carbonate (Calcium Carbonate) qsp
USAGE PURPOSE: It is used to provide benefits and prevent fertility problems caused by malnutrition in bovine and ovine animals, due to lack of vitamin and mineral substance in high milk yielding animals.
USAGE: 2 kg per ton of feed,. Also ,It is recommended to use 20-80 gr/day for at least 20 days plus per animal;.
STORAGE: To be stored in cool, dry and dark and moisture-free places.