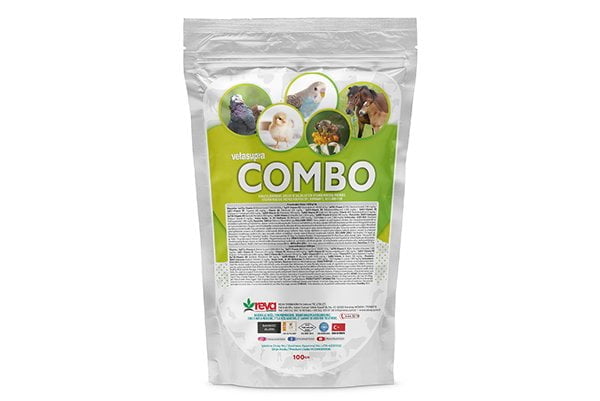 Vitamins: 3a672a – Vitamin A (Retinol Acetate) 3a671 – Vitamin D3 (Cholecalciferol) 3a700 – Vitamin E (Alpha Tocopherol Acetate) 3a821 – Vitamin B1 (Thiamine) Vitamin B2 (Riboflavin) 3a315 – Vitamin B3 (Nicotinamide(Niacin)) 3a841 – Vitamin B5 (Calcium-D-Pantothenate) 3a831 – Vitamin B6 (Pyridoxine) 3a841 – Vitamin B9 (Folic acid) Vitamin B12 (Cyanocobalimin) 3a710 – Vitamin K3 (Synthetic Menadione) 3a300 – Vitamin C (Ascorbic acid) 3a880 – Vitamin H (Biotin)
Elements: 3b801 – Selenium (Sodium Selenite)
Amino Acids: 3c 301 – Methionine (DL-Methionine) 3.2.1 – Lysine (L-Lysine)
Antioxidants: E320 BHA (Butylated Hydroxyanisole)
Carriers: Dextrose (Dextrose Monohydrate)
USAGE PURPOSE: It is a vitamin-mineral combination prepared to meet the vitamin needs of young, adult and old birds and to eliminate their deficiencies. It meets the daily vitamin needs of cage birds such as pigeons, budgies, canaries, parrots, and protects them from all kinds of stress. By having a positive effect on the reproductive abilities of the birds, it enables them to lay eggs in a short time and to produce healthy offspring from the eggs. It shortens the seasonal moulting period. It ensures the healthy and rapid growth of bird chicks. It meets the increasing vitamin needs of old birds. It is used as a support to increase egg and meat quality and prevent vitamin deficiencies of layer and broiler chickens. It helps to meet vitamin, mineral and amino acid needs by adding to the drinking water of lambs, calves, kids and foals. Same time; It is used to meet the vitamin and mineral needs of bees and fish.
USAGE: Ornamental Birds: 5 gr in 1 liter of water. Pigeons: 5-10 gr per 1 liter of water. Layer Chickens: 10-20 gr. to 1 liter of water or feed. Meat Chickens (Broiler): 10-20 gr. Lamb, Kid, Calf, Foal: 50-150 gr. per 1 liter of water. Bees: 2 g per 1 liter of syrup or bee cake. Fish: 50 gr per 1 kg of feed paste
STORAGE: To be stored in cool, dry and dark and moisture-free places.
PACKAGING FORM: In 100 gr sachets