Vetasupra Calf-Aid Force Plus
Vetasupra Calf-Aid Force Plus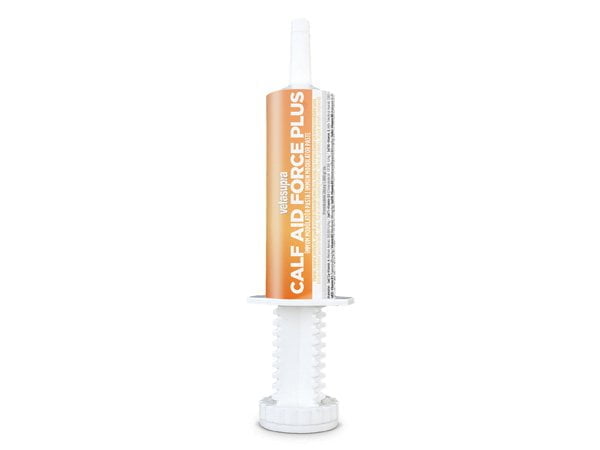 Vitamins: 3a672a – Vitamin A (Retinol Acetate) 3a671 – Vitamin D3 (Cholecalciferol) 3a700 – Vitamin E (Alpha Tocopherol Acetate) 3a821 – Vitamin B1 (Thiamine) Vitamin B2 (Riboflavin) 3a315 – Vitamin B3 (Nicotinamide(Niacin)) 3a841 – Vitamin B5 (Calcium-D-Pantothenate) 3a831 –  Vitamin B6 (Pyridoxine) 3a316 – Vitamin B9 (Folic acid) Vitamin B12 (Cyanocobalimin) 3a300 – Vitamin C (Ascorbic acid) 3a880 – Vitamin H (Biotin)
Elements: 3b202 – Iodine (Calcium Iodate) 3b108 – Organic Iron (Iron's Hydrated Glycine Chelate) 3b506 – Organic Manganese (Mangan's Hydrated Glycine Chelate) 3b607 – Organic Zinc (Hydrated Glycine Chelate of Zinc) 3b801 – Selenium (Sodium Selenite)
Aromatic Compounds: 2b – MOS (Mannan Oligosaccharide) 2b – A.L.A (Alpha Linolenic Acid (Omega 3)) 2b – Thistle (Thistle Extract) 2b – Grape seeds (Grape Seed Extract) 2b – Humate Compounds (Humate Compounds) 2b – Garlic Extract (Garlic Extract) 2b – Thyme Extract (Thyme Extract) 2b – Rosemary Extract (Rosemary Extract)
Carriers: Flax Oil (Flax Oil) qsp
USAGE PURPOSE: It instantly supports the immune system of calves and lambs with nutrition. It provides support against common deficiencies in newborn calves and lambs.
USAGE: 5-10 g daily is used from birth for 5 days. It is also recommended to use 5 g daily for lambs, 5-10 g for calves, foals and baby camels. It can also be given with water, milk or calf food. Store at room temperature below -25 C.
STORAGE: To be stored in cool, dry and dark and moisture-free places.