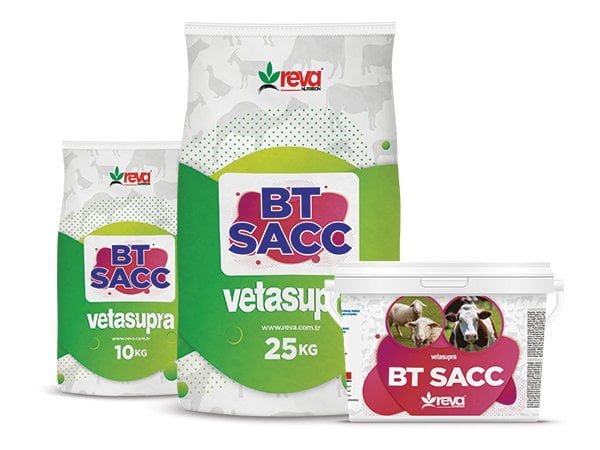 Vitamins: 3a672a – Vitamin A (Retinyl Acetate) 3a671 – Vitamin D3 (Cholecalciferol) 3a700 – Vitamin E (Alpha Tocopheryl Acetate) 3a821 – Vitamin B1 (Thiamine ) Vitamin B2 (Riboflavin) 3a315 – Vitamin B3 (Nicotinamide (Niasin)) 3a831 – Vitamin B6 (Pyridoxine) 3a880 – Vitamin H (Biotin)
Trace Elements: E1 – Iron (Iron Oxide) 3b202 – Iodine (Calcium Iodine) 3b305 – Cobalt (Cobalt Sulfate) 3b405 – Copper (Copper Sulfate) 3b503 – Manganese (Manganese Sulfate) 3b603 – Zinc (Zinc Oxide) 3b801 – Selenium (Sodium Selenite)
Minerals: 11.4.1 – Sodium (Sodium chloride) 11.2.1 – Magnesium (Magnesium Oxide) 11.3.1 – Phosphorus (Dicalcium Phosphate)
Intestinal Flora Regulators: E1704 – Yeast (Saccharomyeces Cerevisia)
Binders: 1g568 – Toxin Binder (Clinoptilolite)
Antioxidants: E320 – BHA (Butylated Hydroxyanisole)
Carriers: 11.4.2 – Sodium Bicarbonate (Sodium Bicarbonate) 11.1.1 – Calcium Carbonate (Calcium Carbonate)
PURPOSE OF USAGE: It is a high-density vitamin-reinforced mixture added with B1-B2-B6 vitamins, toxin binder and live yeast (Saccharomyces Cerevisia) prepared to meet the vitamin and mineral substance needs of bovine and ovine animals.It prevents toxin related problems such as anxiety , fertility problems . It eliminates the metabolic problems that may occur when an unusual feed and feed raw material is used, when the feed is changed or during the transition periods. It regulates the rumen micro-flora in regular and continuous use.
USAGE: 10 kg for 1 ton of feed, 0.5 kg for 1 bag of feed; In addition, it can be used by mixing 100 g to the daily feed of animals in 1 cattle, 4 calves, 5 sheep, 10 lambs..
STORAGE: To be stored in cool, dry and dark and moisture-free places.