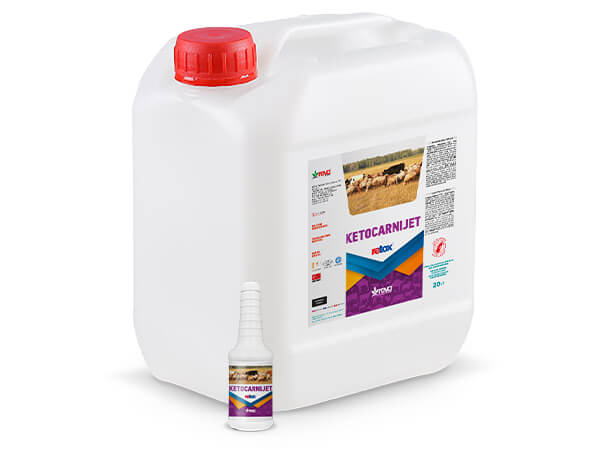 Vitamins: 3a672a – Vitamin A (RetinYl Acetate) 3a671 – Vitamin D3 (Cholecalciferol) 3a700 – Vitamin E (Alpha Tocopherol Acetate) 3a160(a) – Beta Carotene (Beta Carotene) 3a315 – Vitamin B3 (Nicotinamide(Niacin)) 3a910 – Carnitine (L-Carnitine)
Trace Elements: 3b801 – Selenium (Sodium Selenite)
Emulgator-Stabilizers: 2b620 – Glutamine (L-Glutamic Acid) E484 – Glycerine (Glycerine) E477 – Mono Propylene Glycol (Mono Propylene Glycol) E509 – Calcium (Calcium Chloride)
Amino Acids: 3c 301 – Methionine (DL-Methionine) 3.2.1 – Lysine (Lysine)
Preservatives: 1a338 – Phosphorus (Orthophosphoric Acid)
Emulgator-Stabilizers: E477 – Mono Propylene Glycol (Mono Propylene Glycol)
USAGE PURPOSE: It is used to meet the increasing energy, amino acid, vitamin and mineral needs of bovine and ovine before and after birth. In addition to energy, it is a special formulation enriched with vitamins, amino acids, minerals and phosphorus.
USAGE: To be used as mixed with food or water as ; Before birth; 300-500 ml / day for 3-7 days. After the birth; It is used for 3-7 days by mixing 300-500 ml . USE BY SHAKING.
STORAGE: To be stored in cool, dry and dark and moisture-free places.