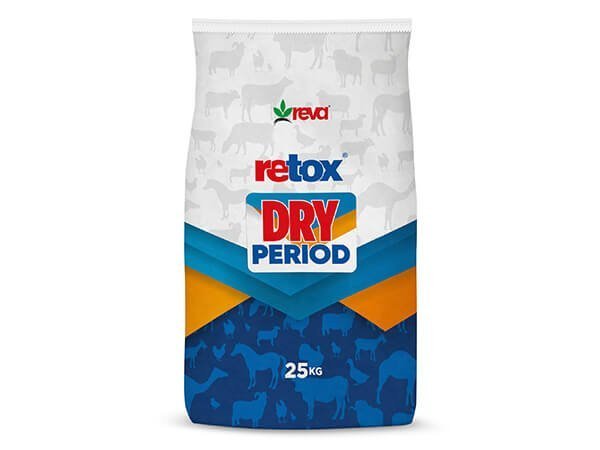 Vitamins: 3a672a – Vitamin A (Retinyl Acetate) 3a671 – Vitamin D3 (Cholecalciferol) 3a700 – Vitamin E (Alpha Tocopherol Acetate)
Elements: 3b202 – Iodine (Calcium Iodate) 3b305 – Cobalt (Cobalt Sulfate) 3b405 – Copper (Copper Sulfate) 3b503 – Manganese (Manganese Sulfate) 3b603 – Zinc (Zinc Oxide) 3b607 – Organic Zinc (Zinc's Hydrated Glycine Chelate) 3b503 – Selenium (Sodium Selenite) 3b801 – Organic Selenium (Selenium Proteinate)
Minerals: 11.2.2 – Magnesium (Magnesium Sulfate)
Zootechnical Feed Additives: Ammonium Chloride (Ammonium Chloride)
Intestinal Flora Regulators: E1704 – Yeast (Saccharomyeces Cerevisia) 4b1872 – Inactive Yeast (Saccharomyeces Cerevisia) 
Binders: 1g568 – Toksin Binder (Clinoptilolite)
Antioxidants: E320 – BHA (Butylated Hydroxyanisole)
Carriers: 11.1.1 – Calcium Carbonate (Calcium Carbonate) qsp
USAGE PURPOSE: It has been specially formulated for dry cows. It meets the needs of organic mineral, salt, toxin binder, yeast and vitamins during the dry period in dairy animals. Its helps in eliminating metabolic problems that may be seen due to postpartum malnutrition. It contains anionic salt to have 500 negative cation anion balance.It enhances the nutrition of pregnant cows to be ready for birth.
USAGE: It is used in the form of 200-400 gr per animal and mixed with the daily feed of the animals.
STORAGE: To be stored in cool, dry and dark and moisture-free places.