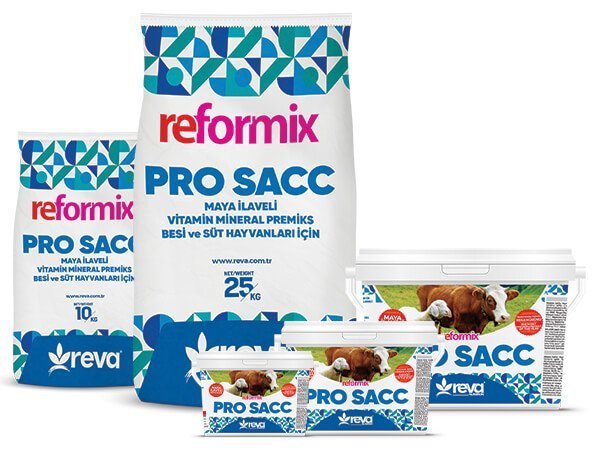 Vitamins: 3a672a – Vitamin A (Retinyl Acetate) 3a671 – Vitamin D3 (Cholecalciferol) 3a700 – Vitamin E (Alpha-Tocopheryl Acetate) 3a315 – Vitamin B3 (Nicotinamide (Niacin))
Trace Elements: E1 – Iron (Iron Oxide) 3b202 – Iodine (Calcium Iodine) 3b305 – Cobalt (Cobalt Sulfate) 3b405 – Copper (Copper Sulfate) 3b503 – Manganese (Manganese Sulfate) 3b603 – Zinc (Zinc Oxide) 3b801 – Selenium (Sodium Selenite)
Minerals: 11.4.1 – Sodium (Sodium chloride) 11.2.1 – Magnesium (Magnesium Oxide) 11.3.1 – Phosphorus (Dicalcium Phosphate)
Intestinal Flora Regulators: E1704 – Yeast (Saccharomyeces Cerevisia) 4b1872 – Inactive Yeast (Saccharomyeces Cerevisia)
Binders: 1m558i – Bentonite (Bentonite)
Antioxidants: E320 – BHA (Butylated Hydroxyanisole)
Carriers: 11.4.2 – Sodium Bicarbonate (Sodium Bicarbonate) 11.1.1 – Calcium Carbonate (Calcium Carbonate)
PURPOSE OF USAGE: REFORMIX PRO SACC is specially prepared for fattening and dairy animals(cattle, sheep, goats, calves and lambs) ; Together with the healthy nutrition , it helps to increase meat and milk yield.It helps to eliminate complaints such as soil, paper, wool eating and wall licking observed in animals.
USAGE: 10 kg for 1 ton of feed, 0.5 kg for 1 bag of feed, In addition, it can be used by mixing 100 g to the daily feed of animals in 1 cattle, 4 calves, 5 sheep, 10 lambs.
STORAGE: To be stored in cool, dry and dark and moisture-free places.